360° customer view for Global Key Account Management - from opportunity to sales order and beyond.
360° customer view for Global Key Account Management - from opportunity to sales order and beyond.
Common challenges in sales
Do you need to log into various different systems to get access to the information you need?
Have you taken on responsibility for an existing client and lack client history information?
Are you regularly losing valuable time due to not having relevant and current information about contracts available to you?
The solution: complon xECM for Sales
Modular fast lane implementation
Complete end-to-end process and data models from sales to servicing.
Cross application integration with complon property providers for SAP®
Predefined Business Workspaces for Sales, After Sales and Servicing
Integration into supplier folders, procurement projects, quality management, installed base, and logistics
Ensure the quality of data using automatic self-learning document classification according to ISO standards
Custom reporting with flexible dashboards, filters, advanced WebReports, Excel exports
Enterprise solutions with automated creation and update of records with data from Salesforce® and SAP® with dynamic template selection, auto-rename and auto-move -> reorganisation
Filing assistant for email and documents directly within Microsoft® Outlook, Microsoft® 365
Advanced Smart UI for mobile users and modern PowerUI for opentext™ Content Server
Information security (GDPR ready), compliance, integrated archiving (records management)
Business Partner Portal integration and cloud ready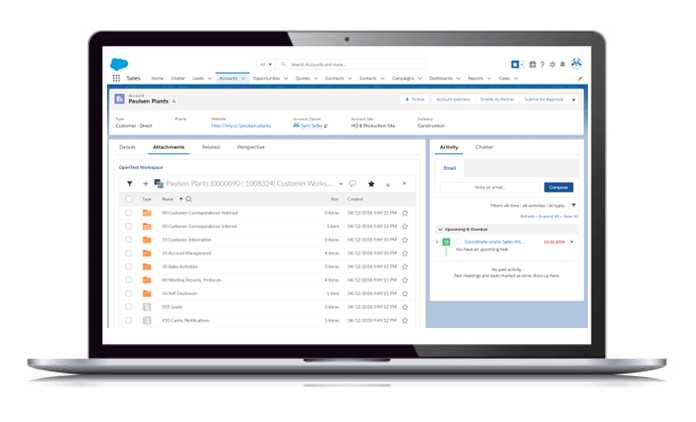 complon xECM for Procurement
Simply clever – documentation that is smarter than ever before
Sales via Salesforce®, Backoffice and Service via SAP® ERP are directly linked to each other via the customer folder. The status of the order can be tracked both online and on a mobile device, from the initial opportunity to offers, contracts, delivery, installation, acceptance and servicing.
LESS WORK IN THE OFFICE – MORE TIME FOR CUSTOMERS – the customer folder is automatically updated when a business partner is created and any changes are made. Central templates are created as needed or automatically in Output Management and any adjustments made, electronically signed, sent and securely archived. All document and emails can be easily stored or sent by dragging & dropping from Salesforce®, your email client or the Windows file explorer. Collaboration across various roles and teams is made possible using permissions set by the responsible sales organisation and ad hoc teams put together from various companies, and even directly with the customer.
Satisfied enterprise customers put their trust in our long-standing process, technological and integration competencies in Enterprise Content Management and Digital Contract Management. We are certified partners for well known software companies such as OpenText and SAP, and our solutions have received multiple awards, including the BME seal of quality.
Every business has its own specific requirements when it comes to digitalisation. Get in touch with us and we will find the right solutions for your needs.